Portage Schools, Chamber, Talk Investing in Students' Futures at State of the Schools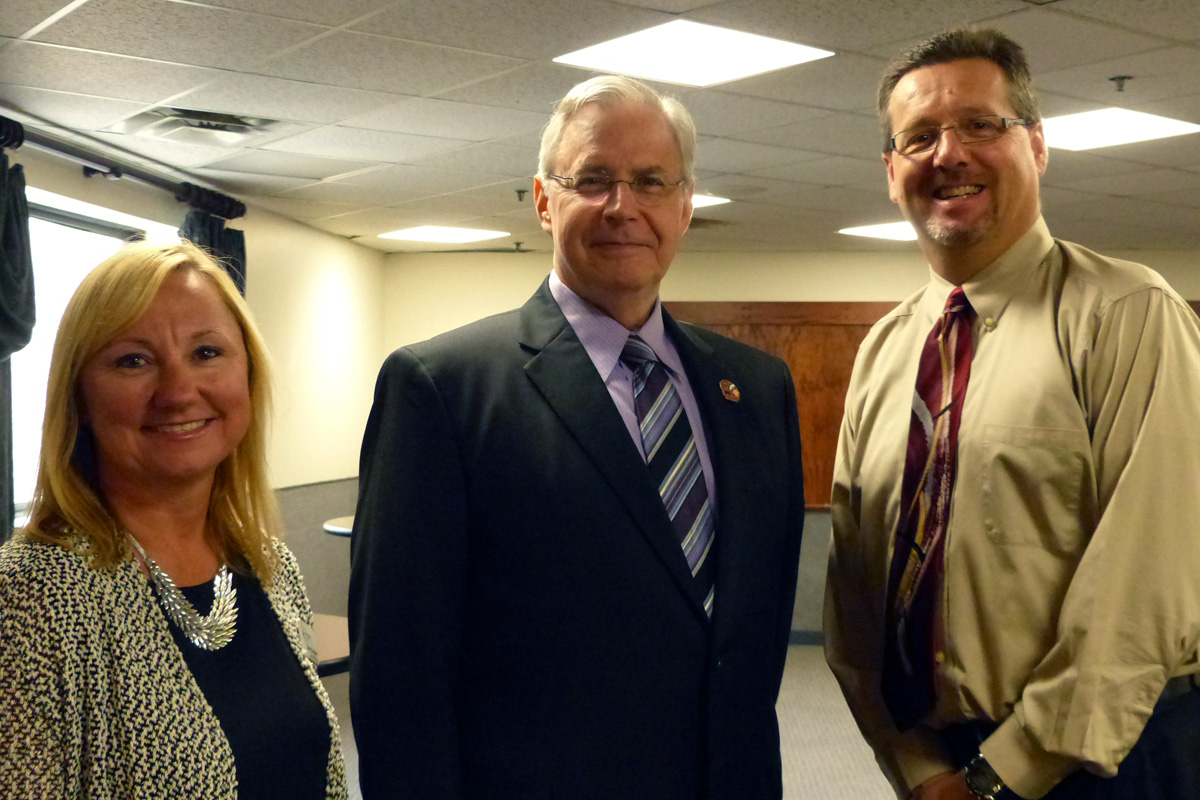 The Portage Township School Corporation and the Portage Chamber of Commerce have a symbiotic relationship responsible for the growth of our entire community. The road from student to workforce is influenced by our local businesses, our educational system, and now technology. Superintendent Richard Weigel's State of the School Address showed our place in the future amidst a technological revolution.
"This is about all of us," said Weigel. "We need to have great schools to have a great community. Our community cannot get better by saying, Oh, let the schools handle it. We must invest in our kids."
Weigel demands change for the educational system. He used examples to show his audience that while their businesses have all advanced their technology, the schools were virtually the same as they were in the seventies.
Other countries are far ahead of us. According to Weigel, India has more honor students than the United States does students. So does China. The U.S. is the only country that speaks, as a whole, one language. Low testing scores in other major cities around the globe are still higher than our best students' scores.
"Most people don't even know who the Secretary of Education is in the United States," said Weigel. "Because we have devalued it. We don't talk about it. But every other country in the world is talking about education."
This year will be different, he said.
One of Weigel's goals is to make Portage Township Schools Nationally recognized. He wants dialogue in his classrooms; Wiegel wants to have students talking to each other in classrooms and collaborating.
Technology will play a major role. In the Middle schools, the number of computers equals the number of students. Elementary and High schools are not far behind. High School students will be bringing Ipads home to study with, like they did last year.
The change to the ISTEPS dropped Portage Township students' scores across the board. Weigel looked at this as a good thing instead of a bad. With the new version of the test they are getting a more accurate look at what their students know and do not know, and can make informed changes.
"The business community likes to know what's going on and make sure that [the schools] are keeping up with technologies and new programs," said the Chamber's Executive Director, Nancy Simpson. "We want to know students have the education to enter the workforce."
"I think it's important for us to know what is going on," agreed Chamber President Mike Sarver, "How our kids are being educated, and how to be a part of it. Part of being a community is getting together to work on things."
Weigel told Chamber members they can help by displaying posters that he would be distributing at the next meeting. Each one depicts a series of core values that our students should encompass. They should see business leaders, parents, and teachers setting an example.
"We are working toward the same thing, serving the community," said Amber Alexander, the CEO for the Portage YMCA. "Any relationship with the Chamber benefits everyone because it's all about creating a positive attitude in Portage. [The school system] is in the business of educating our students."
Weigel's plan for Portage Township Schools will be achieved by answering an important question that many businessmen ask themselves: How do I get my workers to care about the quality of their work?
Technology will allow him to try many tactics.
"Our kids can and will rise to our expectations," Weigel said. "It is the expectations of the adults that is key."